We have built our business by offering a quality service.
Established in 2010, we now have nearly a decade's worth of testimonials.
Our competitive pricing and high quality of work helps ensure repeat custom from local surveyors, estate agencies and professional clients, as well as recommendations from a long list of happy private clients, such as those we feature below.
Whatever change you need, Tay Property Services will help reinvigorate your property.
Whether that means treating a problem such as dry rot, refurbishing a room after flood damage, or renovating things on a larger scale.
We offer a full and comprehensive service to our clients, from specialist 'No Obligation" survey inspections to recommendations and treatments.
Call us today on 01738 860170 for a free estimate.
Dry rot
In this property, our "No Obligation" survey confirmed that dry rot was present at the front of the house, spreading from roof level down into the room below.
Having provided a costed action plan for the proposed timber treatment and remedial joinery work, we were asked by the client to complete the treatment and replacement of infected timbers in the rafters and joists at roof level. This also included replacing the lead box gutter and forming new steps for expansion of the lead to prevent cracking in the future instead of one straight length as it was before.
In the room below the wall linings where removed beyond last signs of decay mainly at wallhead and the timbersafe lintels removed and replaced with steel rsj's. the majority of cornice could be saved as lath was fixed to brander timbers that could be re-fixed to new joists above where as the competitors wanted to remove ceiling 1m back from wall where all the corner ceiling enrichments would be damaged and require to be replaced at a cost of thousands more and not required.
Then, because dry rot requires a humid atmosphere for the dry rot spores to germinate, we had to address the maintenance issues that had allowed condensation to become an issue in the first place. This included replacing a lead box gutter and window lintels, and then remedial plasterwork & cornice repairs.
The finished treatment is covered by our 30-year treatment guarantee.
Resin Beam Repair
As part of another timber treatment project, which also included waterproofing work, we had to address a problem where the infected timber – a roof beam – could not be removed because it was supporting the roof trusses.
The beam however was affected by wet rot at one end, which had to be treated or the entire beam would ultimately rot and eventually fail to support the trusses.
Our expert joinery team cut back the affected area of the beam and surrounding wood, to the point where only sound timber remained. Into this sound woodwork we cut channels to fit a new beam end, which was resin-bonded to the existing beam.
This treatment provided a high-quality beam that will be fit for purpose for years to come, and the remedial treatment is covered by our 30-year guarantee.
Waterproofing
For a recent basement conversion, we installed a cavity drainage system, which comprised a waterproof membrane, drainage, pump and control system. Together the system is subject to the British Standard for Waterproofing (BS 8102:2009).
The drainage system channels any water that might arise, either from condensation or ingress in the basement, into a drainage channel from where it can run to a collection point and be safely removed.
Cavity drainage systems are now the most common action used to prevent damp or and water ingress arising in basement conversions.
In this instance, an 8mm membrane was fitted to the room's walls, and a high flow 20mm membrane was fitted below the final flooring, with a perimeter drain installed that led to a sump & pump.
Once installed, the cavity drainage system could be tested easily, to ensure it was working correctly, and if the membranes are ever damaged in future (for example, in work to alter the room) then it is easily repairable.
A cavity drainage system is therefore suitable for most refurbishments, as well as new build properties. It can even be fitted into listed properties, as it can be completely removed if a room's use is being altered at a future date.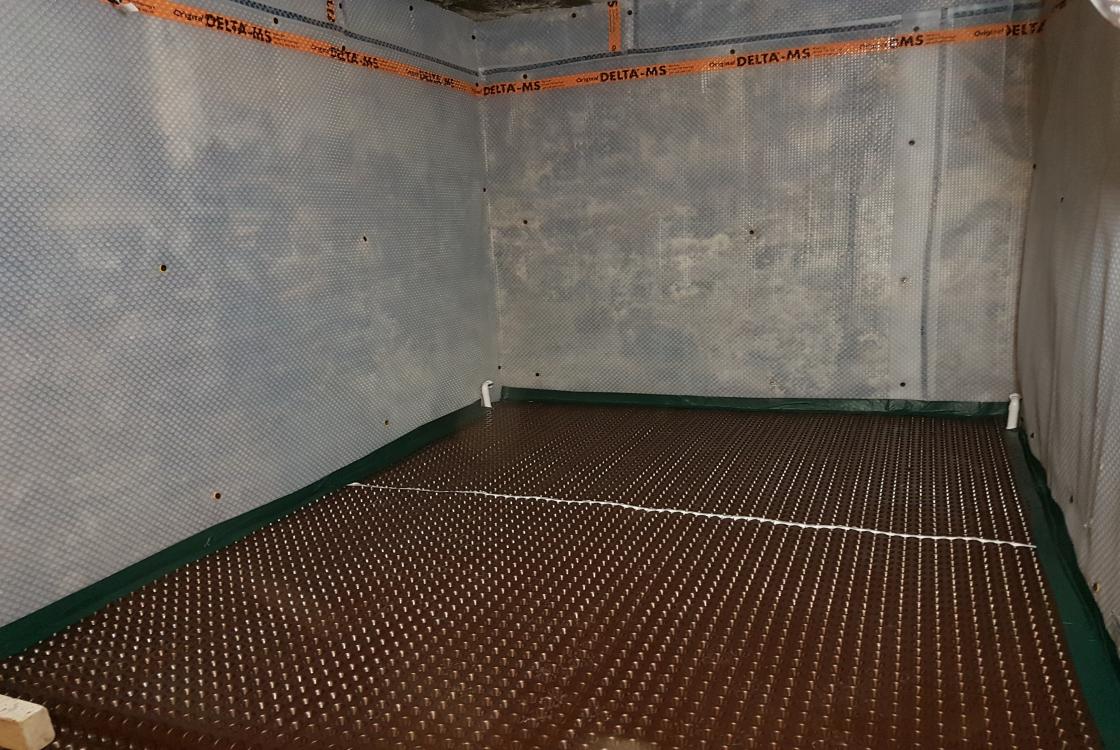 Joinery and Building Works
As well as our range of specialised timber treatments, Tay Property Services undertakes all types of joinery work – from fitting new uPVC windows and doors; installing kitchens or bathrooms; building extensions or decking; and much more.
We can supply all trades required to complete projects, ensuring that you enjoy a hassle-free 'one company does it all' approach.
Our aim is to return your home or business to normal, as quickly and efficiently as possible.
By choosing us, you benefit from our experience: and that means you get the best return on every pound invested in your project, helping to increase the value of your property over time.
In this project, we were asked to alter an existing kitchen within a relatively modern property. The alterations included opening up a load bearing wall to create a large, open plan kitchen / dining room.
We opened up the load bearing wall, installed a beam to support the floor and, as a novel feature, incorporated a cinema projector screen into the beam's cladding. This meant the screen could remain hidden from view when not needed – but could also be set up quickly and easily when the family wanted. It's proved to be a big hit.
Our team of trades then fitted new kitchen units and an island breakfast bar to divide the kitchen and dining room space.
Done well, to our high standard of finish, a conversion can quickly add value to your property. In a recent survey for Nationwide Building Society this was reported to boost the value of a typical family home by as much as 20%. Food for thought…
Remember: we consistently deliver the highest quality of workmanship, time after time.
Fluids used by Tay Property Services Ltd are approved by the British Wood Preserving and Damp Proofing association. Where appropriate they carry manufacturers' guarantees, which will be highlighted for you.